Halloween Sinai House Ghost Hunt

Event Date and Time
Fri 31 October
12:00 am
Location
Sinai House
Categories
Halloween sinai ghost hunt
at Sinai house,
Burton upon Trent,
Staffs,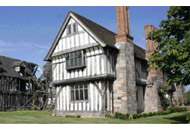 Contact Telephone for Bookings or More Info: 07936402865.
Friday 31/10/2014 8.30 p.m. to 9.30 p.m
Admission : £10
Come on a ghost walk with a difference Sinai ghost walk started with
the ghost stories and history of this location but I also tell you of
the interaction of the supernatural with people who went before you.In
a location which has a reputation of being one of the most scarey
places ever.
The visitations encountered by the public (who where mainly sceptics)
where an army of dead soldiers,a white lady,a demon masquerading as a
child,a coven of witches and murderer of 6 children.
While the public have been here they have been touched, pulled and
thrown across the room seen objects moved by non human means,orbs of
various colours been seen and electrical items going wrong for no
apparent reason and people have heard the whispering of the dead in
there ears when nothing can be seen next to them.
If you are over 18 and wish to join us on the haunted house on the
hill on the same night as the witches and druids worshiped the
original halloween SOW EEN
To book go to www.burtonghostandhistorywalk.co.uk
Event Tags:
Ghost Walk
,
Sinai House
Tweet