Copacabana The Musical at The Brewhouse Arts Centre

Event Date and Time
Tue 13 January - Sat 17 January
7:30 pm - 10:00 pm
Location
The Brewhouse Arts Centre
Categories
The Mellow Dramatics are pleased to announce their next production, Copacabana!
Her name was Lola, she was a showgirl…So begins the saga of Lola and Tony. Their tale of love and romance on the way to stardom had captivated millions, and now is a full-scale, Broadway-style musical fantasy. Original songs created by Barry Manilow, dazzling costumes, spectacular sets and sensational choreography all add up to an evening of entertainment that will leave you breathless.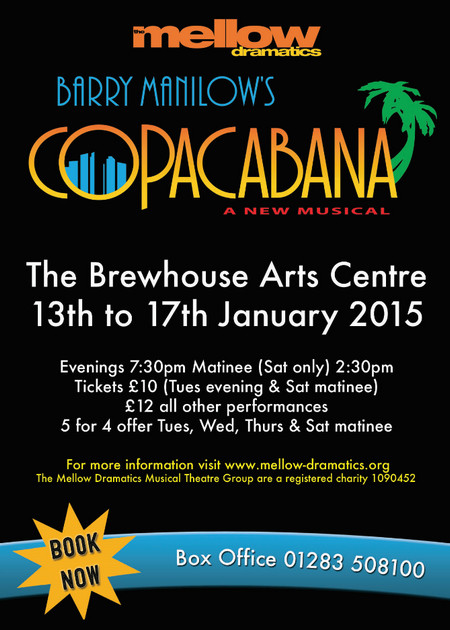 Stephen, an aspiring songwriter, engrossed in the perpetual tempo of his electric synthesizer, envisions and creates the world's next big hit. His remarkable inspiration carries him and the audience back to an era when music and passion were always the fashion at the world famous Copacabana nightclub in New York City.
Just arrived from Tulsa, is Lola Lamarr! Two suitcases in hand and a dream in her heart of becoming a star. Lola follows her dreams through thankless audition halls performing a lethargic interpretation of "Man Wanted," but without success!
Undaunted by her failure to turn her dream into reality, Lola confidently strides into the Copacabana where she meets gladys, an ex- copa girl and Tony Starr, a bartender. Gladys talks Sam into letting Lola audition to be a copa girl and with Tony's help, she gets the part.
'His name was Rico – He wore a diamond – He was escorted to his chair. He saw Lola dancing there…'
The infamous gangster, Rico and his partner Conchita Alvares come to The Copa Club to see the show. Rico is captivated by Lola and sets out to seduce her, drug her and take her back to The Tropicana club in Havana.
Tony, Sam and Gladys set about rescuing Lola from Rico's evil clutches and they seize their opportunity during a chaotic pirate dance number, El Bravo!!!
…..Will Lola be reunited with Tony?
…..What will become of Sam and Gladys?
Will Conchita see Rico for the scoundrel he really is?
'There was blood and a single gunshot, but just who shot who??'
Copacabana! At The Brewhouse Arts Centre in Burton.
From 13th -17th of January, 2015
Evenings 7.30, Matinee 2.30 Sat only.
Tuesday and Saturday matinee: £10.00
All other performances: £12.00
Buy 4, get a fifth free on Tues, Wed, Thurs and Sat Matinee shows
Box office 01283 508100
Event Tags:
Brewhouse Arts Centre
,
Mellow Dramatics
,
Theatre
Tweet